Is Brazil Getting Ready to Fast-Track Cannabis Legalization?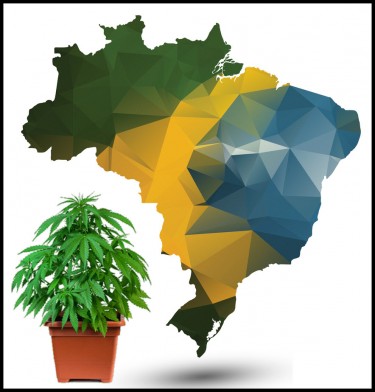 The Bolsonaro administration in Brazil has been vocal about its opposition towards cannabis. Whether it's medical or recreational, they are not supporting it. This, despite the Latin American country having more than 212 million people, more and more of whom are slowly inching towards wider access for medical cannabis.
A report from Prohibition Partners indicates that in 2020, some 14,500 medical cannabis prescriptions in Brazil were issued, up 135% from the previous year. There is hope as more doctors show interest in learning about cannabis and the right ways of prescribing it despite the fact that there is still severely high prejudice against it because their very own president remains poorly informed.
But on June 8, a bill was passed, albeit narrowly, by the Brazilian Chamber of Deputies' Special Commission, which authorizes the cultivation of cannabis for medicinal, scientific, industrial, and veterinary use. Supporters of Bolsonaro's government tried in vain to prevent the bill from making it to the upper house where it would have the final approval, but thanks to the efforts of Deputy Luciano Ducci's monumental vote, the bill made it through.
This new law would legalize the cultivation of marijuana in Brazil but with a set of limitations; only patient associations, companies, and NGO's would be able to grow the plant. Meanwhile, personal or individual cultivation would still be prohibited. As of the moment, ANVISA, which is the Brazilian version of the FDA, allows some cannabis-derived medicines to be imported though the crazy high prices simply make it impossible to afford for many patients. For example, patients suffering from Alzheimer's have to spend around USD $2,000 each month to obtain the imported medicines that they need, so the access is highly limited to those who can afford it. What makes matters more complicated is that patients aren't allowed to purchase more cannabis than they need for a month of use.
Currently, it remains to be seen if the upper house will approve the law but it's as clear as day and night that Bolsonaro remains opposed to cannabis use of any kind. He believes that allowing it will only open the door for mainstream consumption, leading the entire country be under the influence which is not something that they want.
Brazil: The Biggest Cannabis Market In Latin America
Clearly, Brazil is missing out not just on life-saving medicine but also money that can help save the economy through legal cannabis.

 
Last 2013, Uruguay became the first nation in the entire world to legalize marijuana. Though legalization is still in its infancy stages around the world, decriminalizing it would be the natural first step and in Latin America, medical cannabis is already decriminalized in almost every nation.
In 2019, it was Brazil that had the most cannabis consumers in the country compared to many Latin American countries, while spending on recreational cannabis is expected to exceed $160 million come 2027. Brazil is not only the biggest country in the region but the one that is seen to benefit the most economically speaking, from the cannabis industry.
A report from Prohibition Partners also highlights how Latin America could be on the cusp of a cannabis industry boom despite the COVID-19 pandemic. Their findings indicate that the boom can still arrive, although slower. "Much is expected for the last months of 2020 and early 2021, with countries discussing recreational approval and a growing interest not only in the hemp industry but also in the sustainability element of its cultivation along with cannabis," reads the report.
It makes lots of sense: after all, production costs in the region are significantly lower compared to North America, most especially because workers have lower wages. This reduction in costs are seen to be extremely attractive to more investors, particularly because cannabis stocks seem to continue dipping in other locations. It's also a hot spot for cannabis cultivation since Latin America enjoys a tropical climate, enabling plants to enjoy 12 hours of sunlight while abundant rainfall will boost the growth of cannabis crops.
"Growing demand for a local market can be expected to emerge, shifting the attention from an export only economy to an industry that will pay increasing attention to tapping into the local market opportunities, facilitated by a highly urbanized population, a high pharmacy-chain market share, a wide availability of delivery services and a growing telemedicine trend in a highly digitalized society," reads the report.
Naturally, the pandemic has affected Latin America just as it has the rest of the world. But smart leaders know that there's much more incentive to legalize recreational and medical cannabis because it will stimulate the economy – and we all badly need it.
"Although there are always advantages to being an early mover, the current COVID-19 situation brings forward the demand for revenue generation, which also requires the government to adapt the regulatory pathway to help the sector achieve these milestones," explains Lucas Nosiglia, head of Latin American operations for Avicanna, an MMJ manufacturer. "The outcome so far is positive as we have been able to accelerate certain commercial efforts, including the successful export of non-psychoactive API and seeds both domestically, in Colombia, and to international markets, including the US."
It's time to do away with prohibition in Latin America.
There's lots of evidence that proves in many ways that cannabis prohibition is nothing but a failure. It hasn't even been able to meet its own goals but what makes it worse is that prohibition has led to an onslaught of undesirable side effects especially when it comes to human rights.
CANNABIS IN BRAZIL, READ MORE…
LEGAL CANNABIS PHARMA COMPANY IN BRAZIL GETS GOVERNMENT APPROVAL