What is the Environmental Impact of Cannabis Farming?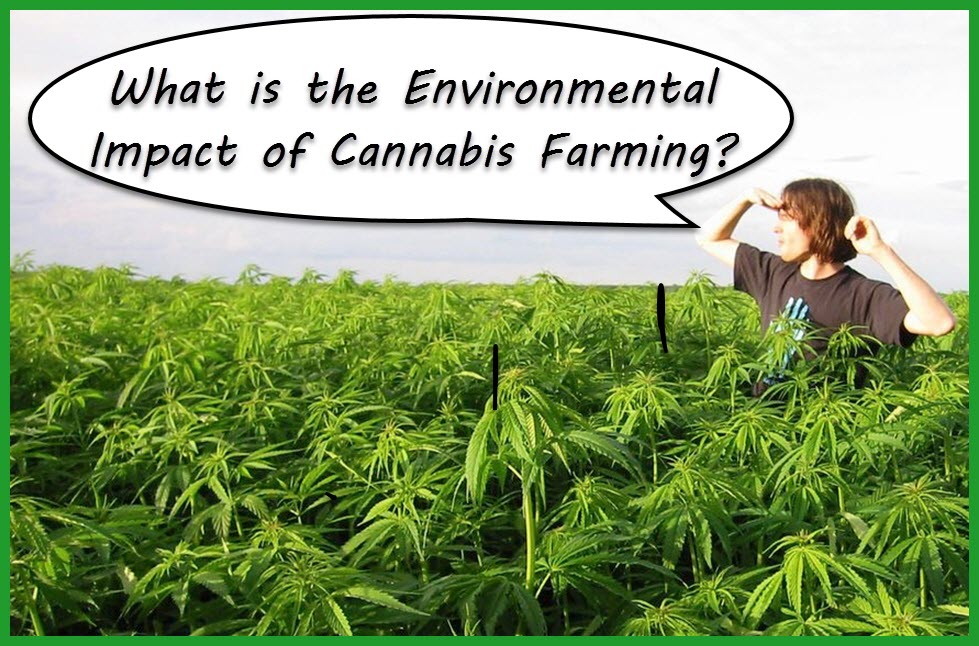 We're at a point in human history where consumers have become more aware of the environmental impact of excessive consumerism. "Mass Production" equates to lower prices but it comes at a cost – the environment.
Some researchers at Humboldt Institute for Interdisciplinary Marijuana Research [HIIMR] believe that the current model of mass production mixed with the pseudo-legality of cannabis are having a detrimental impact on the environment.
The researchers identified three main methods of growing cannabis for mass production;
Outdoors
Greenhouses
Indoors
The third option – which is the most popular option for growing high-potent cannabis, according to them is the most harmful for the environment. This is due to the high-energy requirements to regulate the environment for optimal conditions. Not to mention the excessive need for water.
Some industry leaders are encouraging outdoors or greenhouse operations over these warehouse cannabis facilities in order to reduce the overall environmental impact.
"If cannabis is grown outdoors or in greenhouses without artificial light, the environmental impact is very low," explains Jouke Piepenbrink, chief marketing officer for Dutch Passion, an Amsterdam-based cannabis seed company. – Source
However – with cannabis being illegal in many parts – including the United States on a federal level – there are many illegal grow operations that are breaking all the environmental "best practices" in order to evade law enforcement.
Recently – over 20-tons of cannabis was found grown illegally in California. Not to mention the countless urban grows that are hiding in plain sight – all sucking down power from the grid.
This is the major concern for the researchers – knowing that if we don't address the growing problem of commercial cannabis – we could be creating an industry that isn't "green at all".
However – perhaps we need to address a bigger issue. An issue that may go beyond the cannabis industry and addresses all of our consumption habits.
Cannibal Consumerism – It'll be the death of us all!
Did you know that out of all of the food produced in the United States – between 30%-40% of it gets thrown into a landfill? It's true – and there are many factors that contribute to this stat.
How many times have you purchased things only for it to go off in your fridge or pantry? Why is it that we buy so much "stuff" when we're not equipped to consume it all.
And in the case of Fast Food Restaurants – and many restaurants for that matter – they usually toss the food because if the "food has gone bad" and someone eats it – they could be liable. Or not, but most restaurant owners don't want to risk it.
It's not just food either – we do the same with our technology. Every year we need a new-better "whatever" without considering that to get that "whatever" the companies are utilizing scarce resources – immeasurable power, and generating a metric-fuck-ton of waste.
And for what? So you can get a new toy that satisfies your unrelenting need to "get more shit". What happens with the old stuff? Toss it to the curb!
Perhaps – as we question the ecological practices of the cannabis industry we can also shift our awareness inward and take stock on whether we "need the latest 'gadget'" or whether it's simply your impulse control mechanism hijacked by smart marketing?
While we address industrial practices – we also need to analyze the philosophy of the consumer in order to find balance between the two.
Not to mention – if the cannabis industry is expected to be the greenest it can be – we should take a deeper look at mono-crop cultivation as well.
Better Cannabis Practices?
This leaves us with the "cannabis consumerism problem". On one hand – you have consumers who would like to retain the commodity of being able to buy weed whenever they want. On the other hand – this motivates companies to erect gigantic power-sucking, water-guzzling warehouses to produce thus said weed.
The Researchers at HIIMR thinks that going "Greenhouse" is probably one of the more sensible approaches and of course – full scale legalization in order to properly regulate the market. With the pseudo-legality of cannabis, it becomes problematic to eradicate illegal growers.
This could be solved if you decentralize cannabis production and make it something that your regular Joe and Jane can grow and sell with relative ease. This would render the plant useless to black-market sellers.
If anyone could grow cannabis in their backyard, in a few years locally source-able cannabis would become a reality. However – with over regulation, you continue to sustain the black market that continues to exacerbate the illegal grow issues. We can just take a look at Illinois as an example – or California.
And now you're in a Clusterfuck of a situation.
So how do we get out of this?
We need to address how we legalize. If we're going to make it accessible – don't you think we should make it accessible to all? Shouldn't it be your right – as it is your right to grow flowers or tomatoes – to grow cannabis on your property?
If we "crowdsource" mass production – we will be able to meet consumer demand while keeping our environmental impact to a minimal. Perhaps that is just a GanjaTheory – but one can dream!
CANNABIS AND BEING ECO-FRIENDLY, READ MORE…
ECO-FRIENDLY CANNABIS IDEAS, HERE IS WHAT YOU CAN DO…
OR..
CANNABIS SUSTAINABLITY GROWING TIPS, READ THIS!
OR..