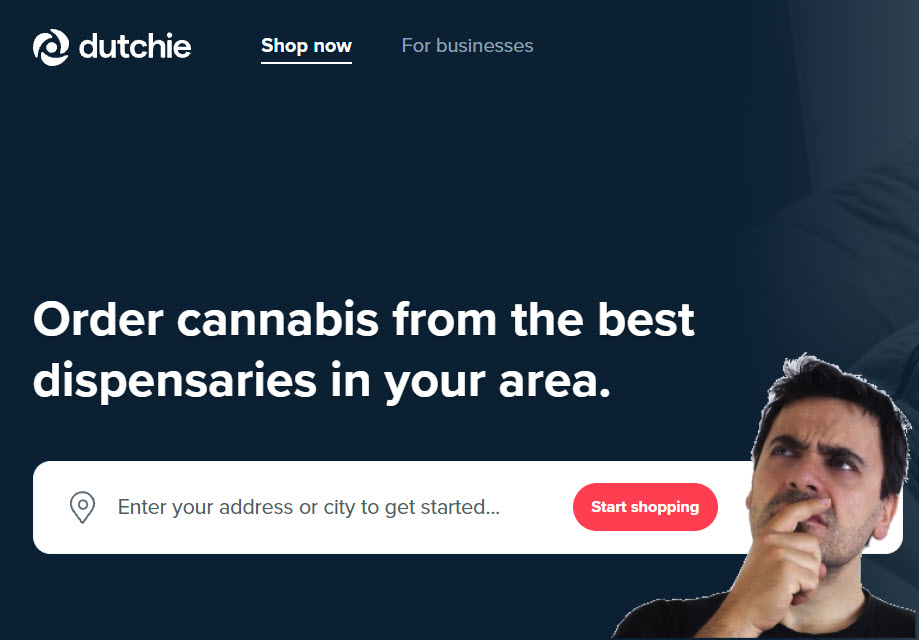 The ongoing thesis that "touching the customer (and their data!)" is now more important than "touching the plant" is playing out everyday in new record valuations for cananbis tech companies and websites with traffic.  Data is the new doobie. If you haven't followed the full story and our running diary of tech deals, read this article on how "Apple Just Changed the Marijuana Industry Forever".  A decision by Apple to allow certain cannabis apps in the app store began Cannabis 2.0, a new arms race to see who could created the "Amazon 2-click" cannabis buying experience in one seemless ecosystem.  Think Amazon ordering for weed.  Valuations and funding took off for cannabis traffic (data), and ordering and delivery platforms, as the future of buying weed was now clear, it will be like everything else on Amazon, online, through an app, and expected in 48 hour or less.
First Weedmaps, the most successful cannabis company in history, got a $2 billion dollar valuation, then Leafly went public in a SPAC, then delivery platoform EAZE got more money and bought and MSO (and just opened their first EAZE dispensary).  The TECH guys were no longer the lower fish on the totum pole. Their access to consumers and data was the future of selling cannabis, not the plant itself. Green Market Report got snapped up by Crain Publishing in a private deal.  Jane menu management and ordering platform got a new $100 million funding round to reach a $1.2 billion valuation.  PotGuide.com sold to a Canadian public company for $8.5 million.The latest splash was Dutchie trumping them all with a new $350 million raise, and new valuation at $3.5 billion!  We wound't even get into the billion dollar valuations wholesale trading and selling sites like LeafLink and LeafBuyer now carry on with.
Getting and owning the consumer is now the golden goose, not getting and owning the plant.  You can follow our updates on cannabis tech deals and funding here.  The arms race is heating up as monsters need to be created to eventually fight Amazon and CVS/Walgreens for future cannabis sales and customer data.  Weedmaps is building a warship, Dutchie is there, EAZE is already selling their own weed to delivery customers (Hello, margins!), Jane now has the access to capital to build a formidable moat around traffic as well. 
But who is Dutchie and how did they get here?  Is the statement true that if EAZE did it job day #1 then there would be no Dutchie? In the same sense, if High Times moved quicker and saw the future of digital, there would be no Weedmaps today.  Why are we now all using the High Times map and dispensary listing app today, they had a 20-year head start?
Dutchie is a technology platform established by Ross and Zack Lipson and Zach 2017. The platform powers dispensary operations and offers consumers easy and safe access to cannabis. The platform also supports the increase in positive societal change that marijuana is ushering into the world.
Dutchie has come a long way since it was founded. The company has gone on to reach a valuation of $3.75 billion after raising a total of $350 million in series D of its second large round of funding. This new valuation more than doubles what was announced early this year.
Around March of 2021, Dutchie raised about  $200 million in Series C of its funding reaching a valuation of 1.7 billion dollars. During that time, the valuation was eight times more than the $200 million valuations reached in the $35 million Series B of funding.
Previous Round of Funding (Series C)
The Series C round of funding was led by Tiger Global and also saw the participation of Thrive Capital, Dragoneer, Gron Ventures, Snoop Dogg's Casa Verde Capital, former Starbucks chairman Howard Schultz, and DFJ Growth.
At the time of the series C funding, Dutchie was witnessing major growth. The company took advantage of the general swell in the cannabis industry amid the pandemic. And also benefited from the increase in the legalization of cannabis in various states across the U.S.
At that time, the company was also able to acquire cannabis-related software providers Leaflogix and Greenbits. Dutchie also appointed a new executive chairman in the person of Tim Barash, a former Toast CFO. Total funding as of then was $253 million. 
Latest Round of Funding (Series D)
D1 Capital Partners led the latest round of funding which also saw participation from Dragoneer, Tiger Global, DFJ Growth, Gron Ventures, Thrive Capital, and Casa Verde Capital. New investors such as Glynn Capital, Park West Asset Management, and Willoughby Capital also participated in the funding. The latest round of funding boosts Dutchie's total funding to more than $600 million.
The new funding is to be used to employ new employees, create new products and reach new markets outside North America. Presently, Dutchie employs more than 500 employees across 40 states in the U.S and Canada. In terms of technology, Dutchie makes use of point of sale, e-commerce, and seamless payment solutions. These technologies power yearly sales of over $14 billion at about five thousand dispensaries all over North America. With this new funding, Dutchie will be able to do so much more.
A Better Future for Dutchie
The CEO and co-founder of Dutchie, Ross Lipson made some interesting comments in an interview with TechCrunch. He talked about Dutchie's tailwind driven by more adoption of cannabis, more states enacting friendlier legislation, and the health benefits of cannabis.
Lipsom asserted that cannabis is truly a force to reckon with, which makes it the most exciting news for the company. He cited that the cannabis industry is the fastest growing industry in the economy seeing a growth of 35% over the years. Lipsom also claimed that they've achieved a growth of 100% with their dispensaries. Presently, Dutchie has more than 5,000 dispensaries across North America.
In preparation for the future, Dutchie is constantly working to move the industry forward by educating the general public. Dutchie constantly educates the public on the benefits of cannabis and backs more regulatory and legalization work. There's no doubt marijuana is attracting major investment and talent into the industry. And not just that, more startups are also starting to bring better technology into the industry.
According to Crunchbase, about $357 million has been invested into several cannabis companies this year. Many forecasters also claim that the Cannabis industry would grow to be a $100 billion industry in the United States by 2030.
Earlier this year, the managing director of Poseidon Investment Management, Morgan Paxhia, in an interview with TechCrunch was also optimistic for the future. Paxhia said that the year 2021 has been amazing for the cannabis industry but more is still expected to come on the scene. Paxhia expects capital flows to increase incredibly from demand, new innovative startups to get established, and good public markets to bring more IPOs.
Dutchie's relationship with Investors
Dutchie's relationship with existing investors has been great so far. And one of the relationships that stand out is that with D1 Capital. Dutchie has had a long relationship with D1 Capital for quite some time now. They keep constant communication about customers and overall business. And to keep up with demands, both D1 and Dutchie decided it was right to expedite the mission to simplify dispensary operations.
To this end, Dutchie has committed a $100 million investment into research and development over the next year. This is where a percentage of the new funding will be going. Not just that, Dutchie is also planning to have an employee base of 500 people in 40 states across the US and Canada. 
With Dutchie now in Series D territory, Lipson tried to answer if an IPO is part of the company's future expectations. He said Dutchie is always in the business of considering all opportunities. As regards the future of the cannabis industry, he asserted that the industry will continue to witness adoption in all areas. Most particularly as more people are being educated to find the right modality and product and with more states legalizing cannabis.
More initiatives such as the Safe Banking Act will allow banks to offer financial services for cannabis-related businesses. Lipson affirmed that initiatives like this and federal legalization of cannabis will certainly take some time. But Dutchie is optimistic that it will eventually come. 
Bottom Line
Dutchie continues to ride the wave of support for cannabis legalization in the United States as well as the passage of favorable legislation across various states. The sale of legal cannabis is expected to hit $24 billion by the end of 2021 and Dutchie has positioned itself for such opportunities. In fact, a lot of previously uninterested companies are already starting to change their tune on cannabis; getting ready for opportunities that may come while the smart few are already making the most of the existing opportunities available in the industry. A good example is weedmaps who recently went public and officially began trading this year. The future of the cannabis industry is truly bright!